Motivated by California drought conditions and water issues around the world, the founders of Oasense wanted to raise the expectations of water-saving showers. They pioneered a twist to the standard eco-showers that achieve sustainability at the cost of user experience. The Oasense Reva showerhead is a sensor-embedded, self-powered, cutting-edge technology. It's the easy upgrade that preserves what people love most about showers while saving 50% of the water used in a typical shower and reliably reducing water usage and water-heating CO2 emissions by about 51% compared to a standard low-flow showerhead, and by 64% compared to a traditional 2.5 gpm showerhead. It not only saves water but money as it will save approximately $95 a year based on the local water and gas rates in our community.
Oasense Reva is the perfect example of technology-driven sustainability efforts that enhance users' experience
Up to 30% of the shower water can be lost in the time between turning the water on and waiting for it to heat up. Oasense offers better solutions than a temperature display or LED. It detects the set temperature.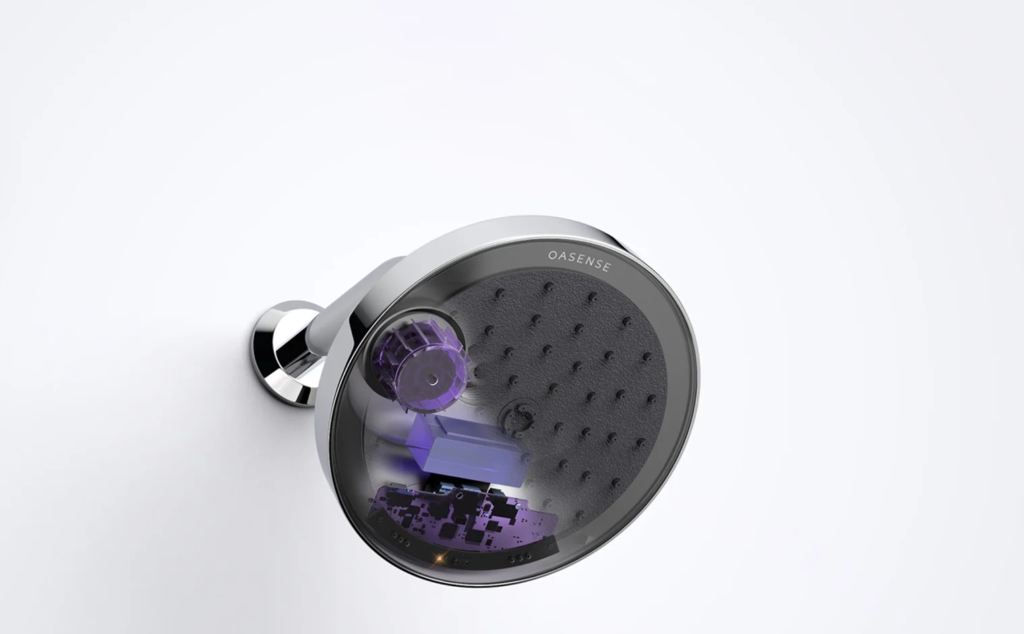 The technologies behind this Water Shower
Always Adapting
Oasense intelligently learns and adapts to everyone's way of showering, and improves with each shower.
Precise Sensing
Oasense's sensor fusion technology packs in an array of custom infrared sensors and has a supplementary sensor to allow it to detect clearly in all conditions.
Unlimited Power
Oasense's advanced electronics are powered by a high-performance micro turbine, which means you'll never have to charge it.
Moreover, high-performance sensors are usually power-hungry and need to be connected to an external power source or charged frequently. Oasense combats this issue by generating its own clean energy for the sensors from the shower water when rinsing, and any extra energy is stored in the battery to be used when Oasense is saving water. Oasense's electronics system was developed with the lowest possible power consumption, and the power generation system was designed from the ground up with the finest engineering materials. This is how it can achieve 10x more power output than any other equivalent system in the market.
Furthermore, not only is Oasense the smartest eco-shower but it is also designed to the highest standards. The Reva showerhead features a 6" rounded facade to provide full shower coverage like a rain shower head and can be used in both a regular shower and rain shower setup. The sensors are purposefully hidden on the thin rim of the device underneath a layer of glass-like cover plastic typically used for high-performance optical sensing applications.
This is probably the world's first smart showerhead!
"Oasense development began in 2014, in an effort to help my family save water during the California drought. The idea came to me in the shower one day in 2014, when I realized that a large amount of shower time is spent doing things that don't require running water, like shampooing and lathering soap.
The idea has been tested, tuned, and refined a lot since then, and in 2018 I was fortunate enough to witness a world class team gather together to deliver this concept to the world. "

Evan Schneider, Inventor