The Emotn C1 is the first LCD Multimedia projector launched by an innovative manufacturer named Emotn. Let's have a short review on the cost-effective projector.
Packaging
Right after unpacking your product, the things you will get from Emotn are listed below:
Instruction manual
Remote Control
Power adapter of 1.5m
HDMI 2.0 cable (1.5m and an AV cable along with the projector of 0.26m).
Outlook
Firstly this projector holds a fantastic color combination of pure white and fluorescent yellow. The manufacturer named it Lemon Yellow.
The measurement of 225x186x109mm and weight of only 1.69kg (3.72lbs) is pretty handy with the basic rectangular shape. It has a rubber cover for the lens.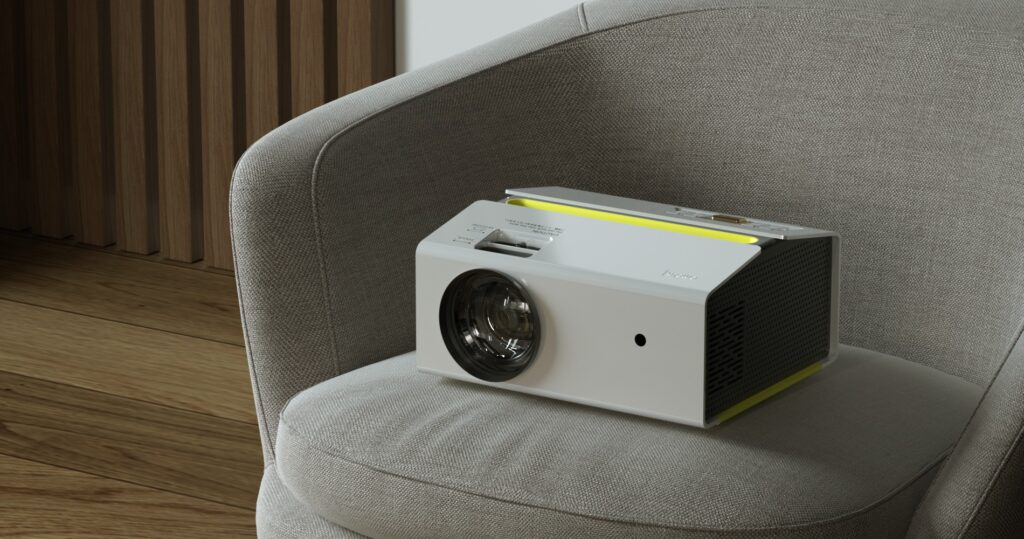 Video & Audio Output
This product is featured with 130 ANSI lumen (amounting to more than 8500 lumens), which is fair enough for brightness. It offers you a keystone correction of ±15°.
With the contrast ratio of 5500:1, it supports Native 1280*720dpi as well as 1080p and 4K. The recommended projection size for this projector is 50" – 120".
Emotn C1 is featured with a single 5W HiFi speaker, undoubtedly delivering you a soothing experience.
Software & Compatibility
This projector is simply Linux-based. It has the wired and wireless screen mirroring feature and is perfectly compatible with Android and iOS.
Features & Enhancements
The projector has impressive features on it. On one side of the product, you will find the port for powering it.
Rest of the ports are available on the back of this projector. Those are respectively the VGA port, USB port*2, HDMI port*2, AV port, headphone port of 3.5mm, and a port for microSD card from left to right.
The bottom part of the projector carries a sticker containing all the essential info regarding the projector. An airflow system placed on both sides of the projector keeps your projector cool while keeping the noise <30db.
This projector has a manual focus. Both the focus and keystone correction wheel are on the top of the projector. There is a silicone-made phone stand to protect your phone from bouncing and scratching while projection is on.
You can see the IR detector button installed on the right of the front side. At the bottom, you will also find the facility of keeping it on a tripod.
Pricing
It will cost you only $169 for Emotn C1. This projector might not be the best, but considering the price range, this is a beast!
You will barely find any other projector in this same league to compare with Emotn C1. The cost-effective Emotn C1 will outrun the competitors in every sense.