Emotn has launched its first LCD projector Emotn C1 at the end of last year. This LCD projector is now officially available on marketplaces like eBay, Amazon, and others. It is very well known for its fashionable, high-end, and being the most cost-effective projector in the market. As the first LCD projector of the brand, Emotn C1 is a good home theater projector for within $200.
Let's have a short idea of the features of the cost-effective projector-
Appearance : The projector comes with a creative and fashionable design. This projector holds a fantastic color combination of pure white and fluorescent yellow. The weight is only 1.69kg, which is pretty handy and can be carried out anywhere. It has a more recognizable design of a "roof" shape at the top than any other projector.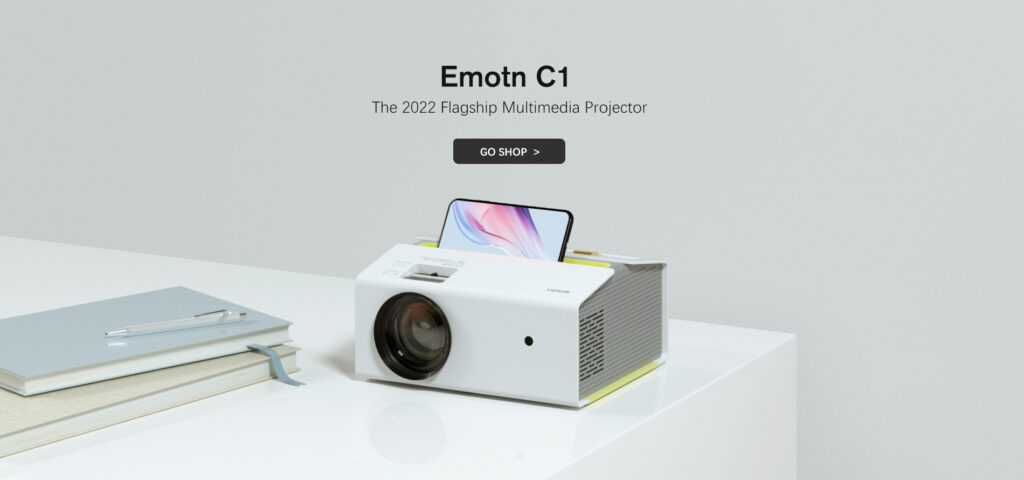 Image:  In terms of image, Emotn C1 projector has a brightness of 8500 lumens, a contrast ratio of 5500:1, and a resolution of 720p. The image quality and brightness are better than other similar LCD projectors in the market. It also adopts image quality tuning technology which can provide a sharp image with details both indoors and outdoors. Emotn C1 Bluetooth Projectors are friendly to children's eyes, with diffuse reflection and soft imaging. You can use it with peace of mind and get the content you like.
Features & Connectivity: Emotn C1 has several external interfaces, including HDMI, USB, VGA, which are compatible with mobile phones, TV boxes, computers, speakers, USB disks, etc. It is equipped with a 5W speaker and customized Box, delivering quality sound. It supports Wi-Fi and Bluetooth 5.1, ensuring a stable and quick connection. The projector also has a manual focus. You can manually set the focus by using the focus correction wheel on the top of the projector. The system supports multi-language, and the image, sound, time can be adjusted according to settings.
Software & Compatibility: The projector is Linux-based. It has the wired and wireless screen mirroring feature and is compatible with Android and iOS. It is a very user-friendly projector, and users can easily operate the projector.
To sum up, Emotn C1 is perfect in providing premium images, stable screen mirroring, speaker, and required connection ports. The appearance is more innovative and attractive. The features make it so special that it can be used to replace TV and used anywhere to boost up entertainment. Considering these features, it'll be better to choose this projector for home uses at an affordable price.