Last August, South Korea experienced the heaviest rainfall in 100 years where severe flood damage stroke Gangnam District, the center of Seoul. Countless houses and roads were flooded due to sewage backflow causing injuries and missing people. Subway stations and other facilities also suffered tremendous damage due to the flood. Gangnam District has a low terrain compared to nearby neighbors and is surrounded by mountains and hills, leaving it vulnerable to stagnant rainwater. This flooding disaster is said to be caused by problems of sewage pipe installation errors, lack of drainage facilities, and other factors.
POSCO, the largest steelmaker in Korea, also suffered massive flooding due to typhoon Hinnamnor striking East Asia last September. The main and core machinery was shut down for the first time in 49 years. Due to the damage, this year's third-quarter operating profit stood at 900 billion KRW ($633 million) which was a 71% decrease compared to the same period last year. POSCO announced that the cause of earnings was the typhoon.
It is difficult to prepare countermeasures for natural disasters such as heavy rain and hurricanes because it is hard to predict and simulate in real-time. According to a statistical report conducted by Seoul Metropolitan Government, Seoul Gangnam District suffered heavy rain for 7 out of 10 years until 2020, starting with a landslide which occurred in 2011.
However, simulation technology that could prevent natural disasters is drawing market attention with recent activities of extreme weather conditions and an increase in climate change awareness. Simulation allows practising an experiment that is difficult to perform in the real world by duplicating a subject, system, or phenomenon in a virtual world. Through simulation technology, difficult practices could be experimented on in virtual space to verify the hypotheses. Furthermore, it helps to set up a contingency plan, countermeasure, and more for smarter and better decisions.
E8IGHT, a simulation-based digital twin platform company, developed particle-based simulation software and raised the possibility of preventing disaster. Core software 'NFLOW' allows the establishment of countermeasures in advance by identifying the cause and the impact of a disaster such as typhoons, landslides, and flooding.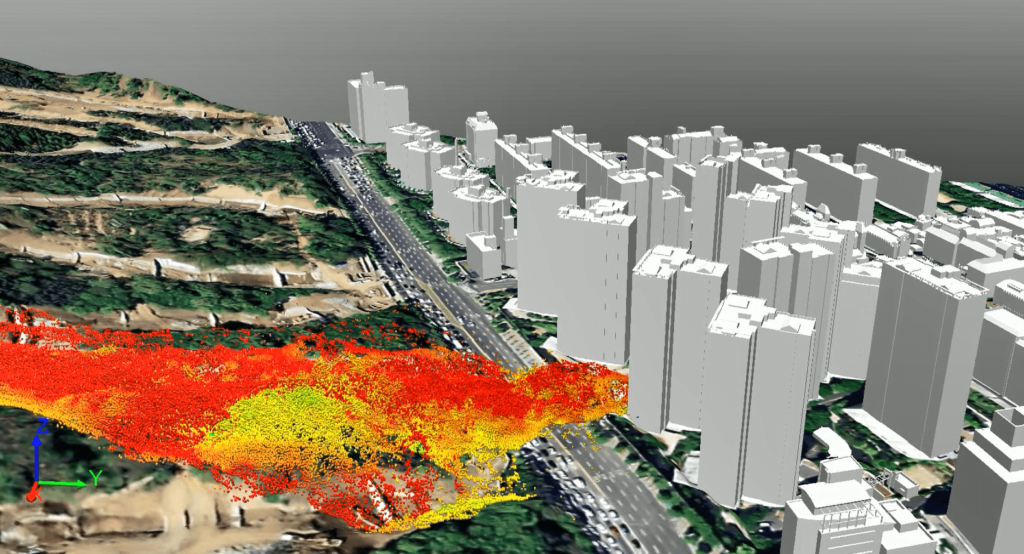 (Simulation of landslide in Seoul Gangnam District)
'NFLOW' is best suitable for analyzing large-scale physical phenomena as it rolls over millions of particles in the simulation. It is said to be a more advanced simulation technology than mesh-based which was commonly used in fields such as automobiles, and machinery where the simulation subject must tightly surround by the grid.
E8IGHT utilizes 'NFLOW' to simulate the damage of landslides due to rain pour by analyzing data on rainfall, wind direction, soil quality, and other factors. Previously, 'NFLOW' revealed the cause of a subsea tunnel flooding accident in Korea which occurred in the past due to a design that did not account for the inflow of rainwater. Furthermore, 'NFLOW' simulated Maeslantkering, the moving dam of the Netherlands for tsunami prevention, and successfully identified the cause of the large-scale disasters and suggested countermeasures.

(Simulation of Netherland's Maeslantkering tsunami)
Established in 2012, E8IGHT has been providing technologies through particle-based simulation and digital twin platforms that can be useful in people's daily lives by preventing natural disasters, building smart cities and more. CEO Jin Kim said "Natural hazards can happen anytime, so we need to be prepared beforehand by using simulation and digital technology for disasters. I believe smart technology will be the key to the prevention of disasters and the safety of the public."
# # #
Contacts E8IGHT Co., ltd
MJ Kim, IR/PR Team Manager
+65-8939-4987 / mjkim@e8ight.co.kr
Homepage: https://e8ight.co.kr/en/
YouTube: https://www.youtube.com/c/e8korea
LinkedIn : https://www.linkedin.com/company/e8ight