Good logos are popular; bad logos are not. This will make designing a logo different from designing other branding materials. Every web banner, ad, and social media post has its own design goal, but none is as memorable as a logo.
The logo is not your brand, but it will become the image of your brand. It will appear on your websites, products, marketing media kits, store signs, and almost anywhere else, people interact with your brand.
A logo is a symbol that represents both your brand and the personality of your brand through an image that is as simple as possible. Your logo embodies your brand in the minds of your potential customers and clients, so without one, they have nothing to hold on to.
A logo offers many advantages, so it is clear why almost every business has one. Not having a logo that looks unprofessional gives the impression of something illegitimate and even unreliable.
Develop your brand identity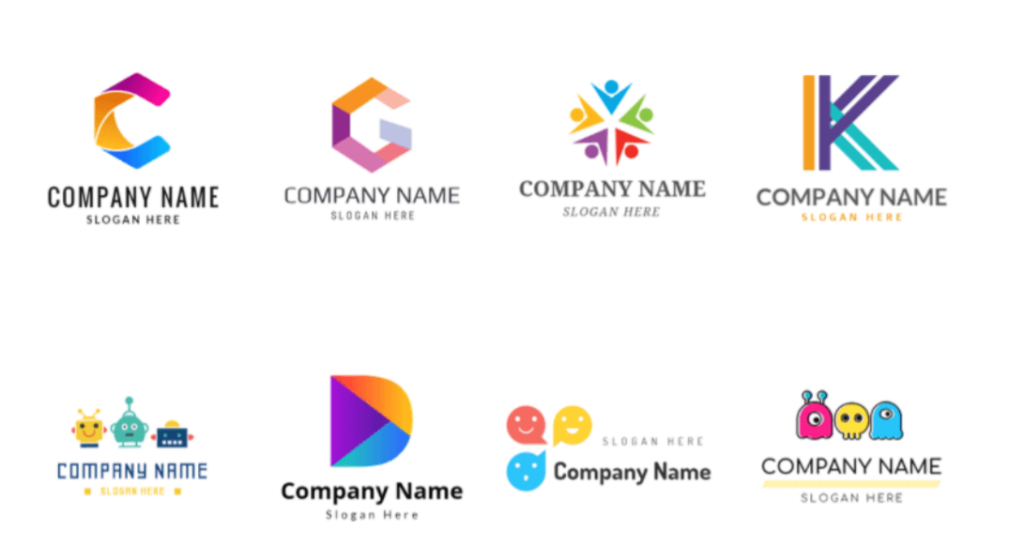 Brand identity is a general term for the visual elements of your brand that encompasses everything, from the colors of your brand, through a title, to the way in which the elements of your brand are designed. These visual elements intervene together to make your brand stand out in the minds of your customers.
Before you start outlining your logo designs, you'll want to get an idea of your brand identity. To get started, ask yourself three questions below:
For what reason did you start your company?
What values are critical to you as a brand?
What distinguishes you from the competition?
The distinctive characteristics of your brand lie in the answers to these questions – what is most important to you and what your customers will be able to recognize best. Before you start drawing on the paper and choosing your colors and aesthetics, ask yourself a question: who are you?
Don't worry if you have no answer to these questions right away – they are a starting point and are meant for you to ponder. However, once you've thought about it, you'll be in a better position to create a logo that effectively distinguishes you.
Learn the language of logos by looking at as many great logos as you can. Think about what made your favorite logos so memorable. If you're looking for great logo designs, here's a list:
DesignEvo: The DesignEvo template page offers you a large collection of impressive logos.
Logospire: It provides a vast collection of user-submitted logo designs, which will help your creative juices flow.
LogoLounge: This blog allows graphic designers to upload their latest logos.
Design-Related Hashtags: A lot of social media communities use specific design-related hashtags to showcase their design works. Instagram is particularly good for this, given the visual nature of the site. Next time when you browse Instagram, you can check out some of the most popular design hashtags: #logo, #logodesigns, # graphicdesign, #graphicdesigner.
Choose colors that reflect your brand
Color is more important to a person's consciousness of visual stimuli than various people realize. Studies have even hinted that color can affect the mood of your users, so it is essential in their purchase decision.
Your logo colors will finally be displayed on your website, store signs, social media posts, email marketing, and anywhere else a user interacts with your brand. No color is universally "better" than another, but each color says something different. You need to ensure that you understand and convey the right idea.
The psychological effects of certain colors
With that in mind, let's review the psychological effects of certain colors:
Brown: Brown is an earthy shade often associated with all-natural ingredients, homemade produce, and fresh-baked treats. Given the color of tree bark, branches, fall leaves, and rich soil, brown can also be used. It gives a touch of nature to your brand.
Orange: Like blazing fire, orange radiates warmth, energy, and passion. It is the color of sunsets and also tends to invoke summer, especially when paired with lighter blues and subdued greens.
Yellow: A color product of the high saturation of orange, yellow emits light, energy, and heat. Although if the heat of orange is a glowing fireplace, yellow represents the intense heat of the midday sun that radiates on a passion fruit mousse. Yellow tends to invoke happy feelings but uses it sparingly. A little yellow is able to add a touch of optimism to a trusted brand, but a lot can be manic.
Green: It is a color with two personalities, which can make us think of an organic aura that evokes the lush tropical forests, ecological awareness, and a sense of calm. And yet, green easily becomes the color of money, greed, envy, and nausea.
Pink: A softer, lighter color, pink has been involved at different points in history as masculine and feminine. Although contemporary customers will probably associate pink with femininity, more generally, it recalls kindness, romance, and love.
Red: Bold and relentless, red tends to stand out, which is why it has become a reliable color for brand promotion. Like pink, red tends to evoke love, while pink conveys tender love and kindred rather than passionate love, strong and carnal.
Purple is a mysterious and gloomy color with an almost magical magnetism. Since purple tints have historically had a reputation for being rare and expensive, it is evident why purple has been associated with wealth, excess, mysticism, magic, and indulgence.
Blue: The color of the sky, blue tends to evoke feelings of trust, calm, and peace. Also, blue has been shown to be the least appetizing color. Try to avoid it if you are selling food.
Black, Gray, and White: Often, the best color for your company is no color. Black, white and gray tones tend to evoke a feeling of calm, balance, or clarity.
Use multiple colors
Most logos are monochromatic, making them easier to use and will help you simplify the other graphic design elements of your brand. Monochromatic logos can also be used in different colors for different purposes.
The FedEx logo is generally displayed in purple and orange; however, the company has created alternate color logos for particular departments.
The more you can work on your design, the better. Complex designs are more earnestly to recall and more averse to remain in your customers' minds.
Free or cheap logo design
If you don't have a logo yet, you can try some free online tools we recommend.
Hatchful by Shopify: Hatchful is Shopify's free logo design tool specifically designed for the eCommerce industry. Hatchful does its work based on questions about your brand's personality and industry and then generates designs specifically tailored to your needs. From there, Hatchful lets you customize fonts, colors, icons, and layouts.
DesignEvo: As I talked about above, the DesignEvo logo maker includes more than 10,000 logo templates that can be customized with its intuitive drag-and-drop editor. DesignEvo is ideal for practical users, especially those looking for total creative freedom. And, it can also be used for beginners due to the simple interface and a large number of resources. Even if you have less design experience, you can efficiently deal with this tool.
LogoMakr: It has a simplified step-by-step logo creation process that beginners can easily handle. With a database of over a million graphics for you to do your searches, a text toolbar, and a simplified and easy-to-organize layer system, similar to Photoshop's Layers tool and other complex design software.
Ucraft: The Ucraft logo maker is ideal for creating minimalist logos at a crucial time. Ucraft offers three basic layout options: text, icons, and shapes, along with a drag-and-drop interface so you can easily adjust your logos. While design options are limited, Ucraft's simplicity makes it a great tool if you need a logo anytime soon.
MarkMaker: The MarkMaker logo generator has very limited customization options, but it makes up for it by being one of the most accessible logo generators to use for beginners. Its unique process is like having a graphic design robot powered by artificial intelligence. Markmaker offers you endless instantly generated logos. It asks you which logos you like and then creates more designs based on your preferences.
The logo creators on this list have both advantages and disadvantages. You can give them a try to find the best option that suits your needs.
Create your brand logo now
Strong and memorable brands tend to have equally strong and indelible logos. Going through this interaction to make a basic image might appear to be a ton of work, but thinking that the design will be tied to your brand in the long run, it's well worth it.
Every great brand started with the bit small. You don't have to forfeit quality design since you are in the beginning phases of your business. Planning your own logo might have appeared to be overwhelming at first, but now, with a better understanding of design principles and the tips involved in the process, you will be better equipped to create your own with confidence.