GITEX is the annual enterprise technology and global digital transformation event taking place in Dubai, the United Arab Emirates at Dubai World Trade Centre. The event underpins the rapid technology-driven transformations, investments and projects shaping the economies of the Middle East, Africa and Asia. This event opens the door and creates an opportunity to connect with the mentioned countries' tech professionals!
GITEX GLOBAL 2022 congregates the ecosystem of stakeholders in the vibrant global digital economy; from big tech & telco, startups, governments, investors, coders & developers, academia and youth. It presents the most transformational innovation agenda through Ai EVERYTHING in partnership with the UAE Office of AI, NORTH STAR, FUTURE BLOCKCHAIN SUMMIT in association with VARA – the Virtual Assets Regulatory Authority, FINTECH SURGE and MARKETING MANIA. From the year's largest startups and investors networking at NORTH STAR to the new crypto and blockchain crusaders gathering in FUTURE BLOCKCHAIN SUMMIT X VARA, GITEX GLOBAL is the most awaited global networking and alliance-forging super-connector event of the year. Committed to its mission to create a most empowering microcosm in the UAE for the world's talented coders and developers, GITEX GLOBAL 2022 launches Global DevSlam.
Now emerging as the go-to coder's meetup of the year globally, Global DevSlam will feature the creative ingenuity behind some of the industry's breakthrough solutions and products, inspiring a new generation of technology imagination and bold ventures. The creation of X-VERSE, another experiential highlight of GITEX GLOBAL in partnership with multiple tech elites, draws our audience into the foray of the much-hyped Web 3.0 and Metaverse economy. As the Dubai Metaverse Strategy targets to add $4 billion to the Emirate's economy and to support 42,000 virtual jobs by 2030, the three-dimensional, hyper-realistic X-VERSE shall open up unprecedented opportunities in public-private sector collaboration and knowledge empowerment imperatives in the world's quest for the next big thing. As the curious world comes together to curate, challenge and celebrates at the year's biggest innovation festival, GITEX GLOBAL and Dubai World Trade Centre welcome you to discover and debate the next digital universe.
Now GITEX Global returns in 2022, from 10-14 October 2022 bringing together thought-leaders, creators, innovators and makers to discuss, debate and challenge new ideologies, showcase new products and identify future opportunities together in one place.
As 2022 promises to be the biggest and boldest GITEX Global, focusing on the latest tech mega-trends and centering the ideas and skills transforming tech – watch out for announcements on new content, star speakers and region-firsts!!!
GITEX GLOBAL features every major technology player, trend and vertical, and it covers sectors including smart cities, cybersecurity, the data economy, mobility, healthcare and telecoms. Right from global tech enterprises to Silicon Valley's hottest startups – companies from around the world exhibit at GITEX in anticipation of high-value new business deals, future-empowering innovations and government partnerships. This year's GITEX event is approximately filled with almost-
100,000+ Global Visitors
170+ Participating Countries
4,000+ Global Exhibitors
200+ Government Entities
700+ Innovative Startups
382+ Hours of groundbreaking content
41 years in action and counting
The Future of Web 3.0
Metaverse like you've never seen it before
Inspired by the Dubai Government's vision and roadmap to become one of top 10 cities globally in the Metaverse Economy – X-VERSE will unite the world's most advanced tech ecosystems to empower diverse industries within the metaverse.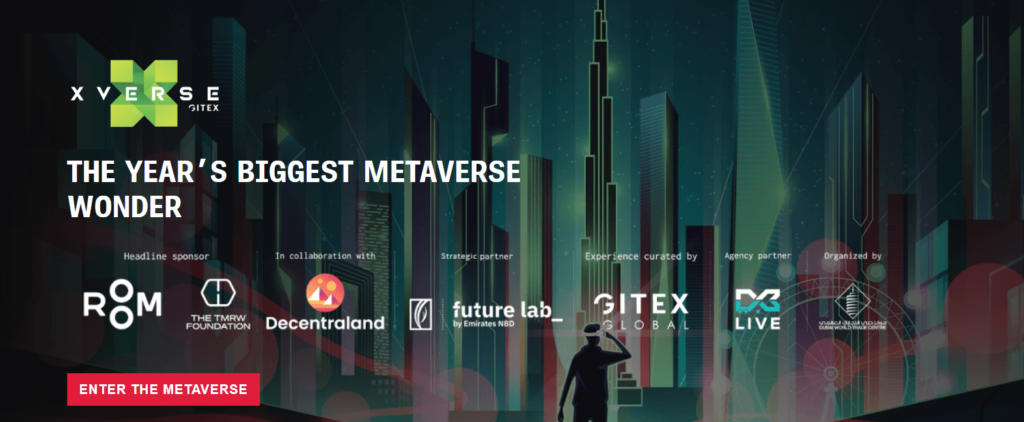 A spectrum of digitally enhanced world realities and business models are here to revolutionize industry and society with tremendous opportunities. Experience World Premieres at the X-VERSE from trailblazing brands in the metaverse ecosystem.
For the first time, we delve into the greatest shifts and the most potentially disruptive industry applications of the Metaverse at the newly launched X-VERSE. Progressing from buzzword to powerful business realities, get a first-hand, live-environment experience of how diverse industries will look in an increasingly vast and rich virtual ecosystem.
WHAT'S NEW THIS YEAR
Among incredible new launches and cutting-edge developments in;
5G, Artificial Intelligence, Cloud & Edge, Cybersecurity, Fintech, Blockchain, Data Analytics and Smart Cities, see what's new:
Coding
Celebrating the technical wizardry behind the digital revolutions – dive into the largest developer engagement and empowerment meetup in partnership with Coders HQ.
Talks with ingenious minds, certified trainings, workshops and career-jetting opportunities.
Gathering ecosystem of coders & developers, to create the world's most vibrant community network of technical minds, skills & talent. Showcasing the creative ingenuity behind the industry's most ground-breaking technologies.
Metaverse
Metaverse like you've never ever seen – experience it from the world's leading virtual world platforms, and global brands and government entities that have embraced the tech.
Launching the World's largest curated Web 3.0 immersive journey to accelerate Dubai's vision of attracting 5000 metaverse companies over 5 years.
Access unique – never seen before – case studies of best-in-class Web 3.0 experiences.
Sustainabiltiy
In the race to net-zero and climate-preserving tech – see which global companies and innovators are ahead of the game and how.
It is to inspire responsible governments, businesses and society strategies through technology. A place for people-powered, tech-enabled ESG realities, with climate tech, green business and net zero goals.
CyberSecurity
Cyber leaders are in a critical position as the gap between business and security leaders widens. As per World Economic Forum Global Cybersecurity outlook, 87% of top executives are planning to improve cyber resilience at their organization.
Find out the 'crypto-nite' of Fintech hackers, how Middle East can be more cyber-resilient, investor-risk in cyber attacks and the lurking threats on social through leading security authorities and hackers on stage.