Privacy is a genuinely concerning factor in today's world. And the use of the terminology is more frequent on the internet than in the real world. And this is no secret that maintaining privacy on the internet is not an easy job. Also, privacy harms are not something that is cured very easily. So, it's always better to prevent such threats.
Virtual Private Network, mostly known as VPN, is the best-automated answer for the privacy concerns without a doubt. But the immense threat leads us to a massive market of VPNs. So, it is not easy to choose your best privacy protection software. So, in this article, we'll be selecting the best 5 VPNs that you can find in the market right now. In that process, We'll focus on these metrics:

-Performance
-Reliability
-Features
-Budget Compatibility
-Ease of use and customer supports and
-Entertainment uses.

Also, the list won't be following any orders. Let's get it over with.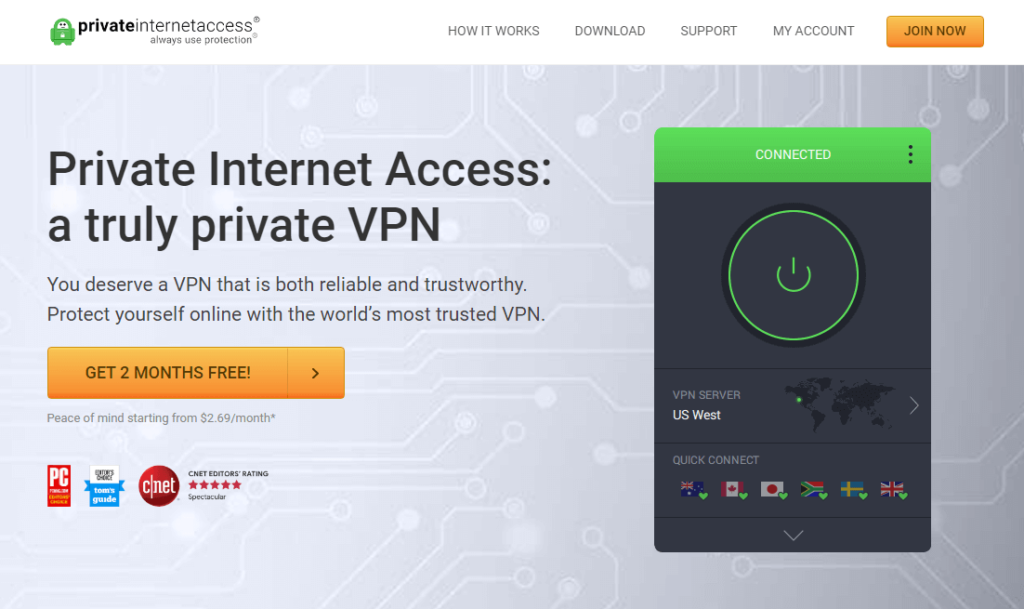 Being one of the most popular VPN in the current market, PIA is an extremely healthy choice for your protections. With this, you will get:
-Military-grade Encryption, which clearly shows the efficiency of the software.
-No logs policy, so absolutely zero interference in your browsing.
-Anonymous payment option, maximum anonymity it is!

-Unblocks Netflix and the other banned websites in your country. So, the internet gets no limit!

-PIA is a Budget-friendly option. Especially when you are using the 1-year subscription pack, not to forget it can perform on up to 10 connections simultaneously.
For details: https://www.privateinternetaccess.com/

This one is relatively new in the market. But the excellent features and services of Surfshark took extraordinarily little time to make it to the top.
-Surfshark promises a reliable data protection system. And that can be used in an unlimited number of devices. You won't be needing to buy several Privacy solutions if you choose Surfshark. That's for sure!
-Did I mention The No Log Policy? You will get that too just like PIA, Surfshark does not like to interfere in your browsing.

-Is your VPN making your computer performance slower? You might want to reconsider what you are using. Because Surfshark gives you the option of high-speed gaming, streaming, and torrenting altogether. Compromising entertainment was never an option, was it?

-But, is a new VPN like Surfshark is accessible as the other giants? It certainly is!
Is has over 500 servers across the globe, so truly little to be worried.
-And customer service? You have a team available 24/7 on live chat and email. You usually get a resolution within a few hours.

-Special features! Surfshark has a self-functioning kill switch that stops the program and notifies you if there is any chance of privacy improvisation.
-The Clean Web feature gives you a little bit of security protection as well. It blocks malware, spams, and other primary threats.
For more: https://surfshark.com/

ExpressVPN is considered to be the king of VPN services. Delivering faster speeds than almost any other VPN service. It has been the deal for quite a time being. Maybe it's a bit costlier than most others. But surely worth the price. Here is why:

-It does not store any activity logs for the users on its network. Besides, it doesn't collect any connection data either. ExpressVPN categorically states that it does not log any IP addresses, browsing history, traffic destinations, metadata, or DNS queries. Privacy ensured to the fullest. What do you think?

-ExpressVPN in as one of the fastest in the industry. ExpressVPN boasts an average speed of approximately 77.14 Mbit/s. Tremendous!

-It offers 24/7 customer support and lives chat. You can also send in an email using the online contact form. The staff is knowledgeable and answers your questions quickly. Ease of Use ExpressVPN is relatively easy to set up. More than 3000 servers offer you the fastest and exceptionally reliable customer service as well.
-Features like Built-in speed test, IP masking, Split tunneling, Auto-kill switch etcetera make it even more exciting!
-The company is so sure about their product that they provide a 30-day money-back guarantee!
You can visit their website to see it for yourself: https://www.expressvpn.com/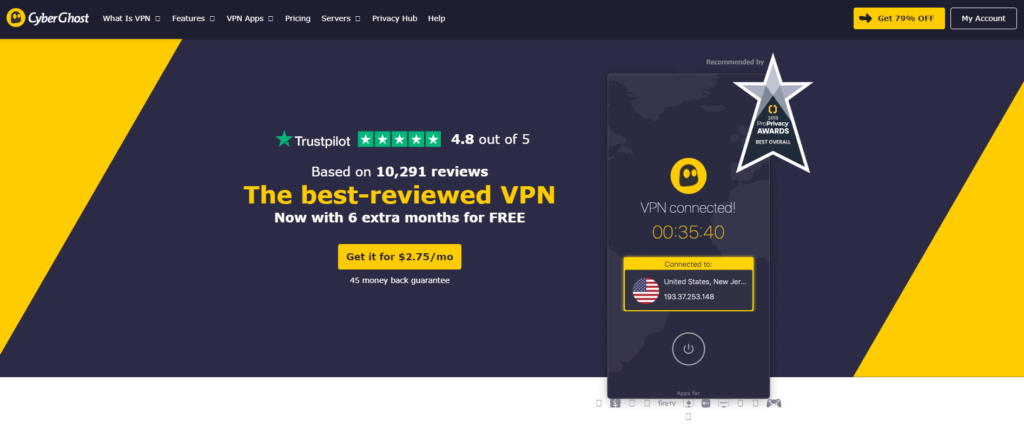 CyberGhost is an excellent VPN choice for torrent lovers, thanks to its incredible balance of speed, efficiency, and top-notch security. Here is what you need to know.

-CyberGhost uses industry-standard 256-bit Encryption to mask online activity, so you can even use it on public WiFi networks. It maintains the highest levels of security with all its connections, so your data is always protected. How else could it make my list anyway!

-It delivers reliable and amazingly fast speeds. This service will never throttle your bandwidth or traffic. You can successfully stream HD content without playback errors, a game without lags, and torrent at fast download speeds.

-It also works with gaming consoles such as Sony PlayStation and Windows ICS. You can also get CyberGhost VPN apps for your routers and other devices.

-CyberGhost has full 24/7 live chat support, a godsend when you need help immediately. You can also send an email for less urgent requests, but with live chat available. And that in an impressive network of 6000 servers worldwide.

-Once you have downloaded the app of your choice, CyberGhost is so easy to use. This company has an effortless 1-click setup. It's just tapping a button to turn it on and drawing a switch to turn it off. So easy to use!
The rest: https://www.cyberghostvpn.com/

So my fifth and the last pick is NordVPN. It is a Panama-based VPN that is known for its advanced security, internet freedom, and complete privacy. NordVPN is a premium service that ships with a ton of superior features, which make it a perfect VPN.

-NordVPN is among the VPNs that use what is considered the best security infrastructure for a VPN of its capacity. It offers limited double-hop tech, which allows for double-encryption of your data.

-NordVPN's website is dynamic, and they keep adding new content to the site. A quick look at the site and you'll experience the premium feel that comes with it.

-Its desktop client offers a simple and straightforward user experience. Clicking the 'Quick Connect' button automatically connects you to the best server depending on your actual location. It should take between 15 to 20 seconds to connect to a server.
-The mobile client has a similar design and over the same features as its desktop counterparts. Working around it as straightforward as the desktop client apps.

-NordVPN ranks among the best VPNs when it comes to its compatibility with various platforms and devices. Among some of the common platforms supported include Windows, Android, macOS, iOS, Linux, ChromeOS, DD-WRT, and more.
Details: https://nordvpn.com/
So, it's time to pick your VPN wisely. Good luck.