ODAIA launched the AI-powered platform MAPTUAL to predict customer journeys and redefine the future of work for pharma and life science commercial teams.
February 10, 2022 — ODAIA, an AI-powered commercial insights SaaS platform for pharmaceutical companies, announced today that it has closed a 13.8 million USD Series A funding round led by Flint Capital with participation from Innospark Ventures, Alumni Ventures, Graphite Ventures, and ODAIA's current investors including BDC Capital, MaRS IAF, StandUp Ventures, Panache Ventures, and others. Funds will be used to enhance platform features and to expand sales, marketing, and customer success teams to support market expansion.
ODAIA is the first SaaS company to combine multivariate data analysis, process mining, and AI to offer predictive analytics to pharmaceutical and life sciences, commercial teams. Many of the world's largest pharmaceutical companies have leveraged MAPTUAL for actionable commercial insights including Janssen, Novo Nordisk, AstraZeneca, among others. Over the last year, ODAIA doubled the size of its team and ended the year with a 208% quarter-over-quarter increase in annualized revenue run-rate along with a large pipeline. 
"The global pandemic has changed the customer-facing pharma business. Health care providers' preferences are shifting permanently toward digital engagement and personalized support. Digital transformation is now a top priority. Our mission is to help pharmaceutical companies in delivering life-changing treatments to patients in the most efficient way possible by integrating robust data with software solutions and AI", says Philip Poulidis, co-founder & CEO of ODAIA
MAPTUAL consolidates a pharma company's internal and external data and applies advanced analytics and machine learning to deliver predictive insights in real-time to sales and marketing teams, including best-in-class predictive targeting and sales forecasting, physician segmentation, omnichannel attribution, and next-best-engagement, allowing them to deploy resources more efficiently and create personalized customer engagements. 
Tech entrepreneur turned venture capitalist Andrew Gershfeld, who currently serves as Partner at Flint Capital, will advise ODAIA and represent Flint on the ODAIA board of directors. "The emergence of this 'new normal' is broadening the horizon of new opportunities in the life sciences sector," says Gershfeld. "With the industry lagging in digital transformation, there are more and more startups in the market to fill the gap. The ODAIA team has a wealth of experience in the enterprise software industry and Flint Capital is glad to be a part of this bright team."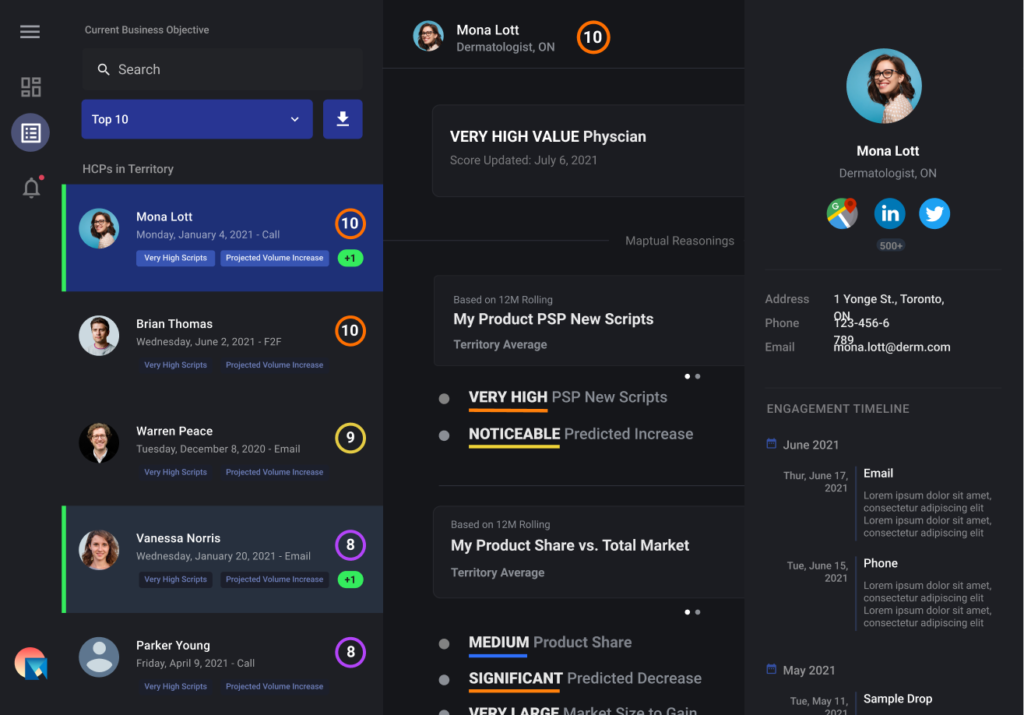 Also joining ODAIA's board of directors is Matt Fates, Venture Partner at Innospark Ventures. "We are excited to partner with ODAIA as they bring powerful yet intuitively usable analytics and machine learning to empower the commercial side of Pharmaceutical companies," says Fates. "The healthcare marketplace is changing rapidly and ODAIA will help pharma adapt, getting therapies to the patients who need them even more effectively."
According to Allied Market Research, the global life science analytics software market is estimated to reach $16.04 billion by 2027, with a CAGR of 12.3%. North America will account for nearly half of the total share. In 2020, 7 out of 10 big pharma companies spent more on selling and marketing expenses than they did on research and development. For this group of 10 companies alone, selling and marketing expenses exceeded R&D spending by $36 billion, or 37%.
About ODAIA
ODAIA is a pioneer in combining multivariate data analytics, process mining, and AI to deliver a Customer Data Platform (CDP) for predictive analytics and insights to pharmaceutical commercial teams. Founded out of the University of Toronto, ODAIA is led by an experienced group of serial tech entrepreneurs, data scientists, and pharmaceutical industry experts and is trusted by leading global life sciences organizations. ODAIA's SaaS CDP, MAPTUAL, offers best-in-class predictive targeting and sales forecasting, physician segmentation, omnichannel attribution, and next-best engagement, bringing predictive analytics and efficiencies to pharma commercial teams.