Many people in their 30s or 40's desperately want to change their career paths but feel terrified about losing five years of their life to go back to school. If you identify with this problem, think about yourself five years from now. Regardless of whether you go after your dream job, you'll be five years older. The question to ask yourself is whether you will still be struggling at your old workplace or if you'll be taking advantage of the opportunities that a new career can provide.


In this article, we'll discuss all the challenges surrounding a career change as well as powerful tactics to overcome them. We've also prepared a step-by-step guide to successfully switching careers to show you that it's never too late to improve your life. For more information about other relevant issues, visit our amazing database of essays: it's free and always up-to-date! 
Contents
? Reasons to Change Careers 
? Benefits of Changing Careers 
? 6 Essential Steps 
? Major Challenges 
? MYTHS & Truths About Career Change 
✏️ Final Tips for Changing Careers 
? References 

? Reasons for Changing Careers in Your 30s or Later
Traditionally, a career change is associated with moving to a new city, trying to obtain a higher salary or position, or escaping a toxic working environment. Even though all these reasons are very relevant, nowadays, people also want to change careers due to the rise of remote work and the arrival of new highly-paid jobs. Let's take a closer look at why people change their careers.
To receive a higher salary. Increasing earning potential is one of the most spread reasons for a career change.
To gain career satisfaction. Many people switch careers when they become unhappy with their job or experience emotional burnout.
To improve your relationship with your superiors. People often find it stressful to work with a current company leader or colleagues if their work styles don't align.
To achieve work-life balance. Some people start looking for a new career with more flexible hours and reduced stress levels to have a better work-life balance.
To avoid high-contact jobs. Healthcare and hospitality workers often seek new jobs to prevent anxiety and other mental issues associated with working in high-contact industries.
To have remote work. With remote work becoming a new feature of the global career market, many people choose to work online for big companies.
To make a difference. A popular reason among millennials and Gen Z for switching careers is to find opportunities to change the world for the better.
To follow new values. It's natural for people's priorities to change throughout life and for workers to feel like they don't connect with a company's mission anymore.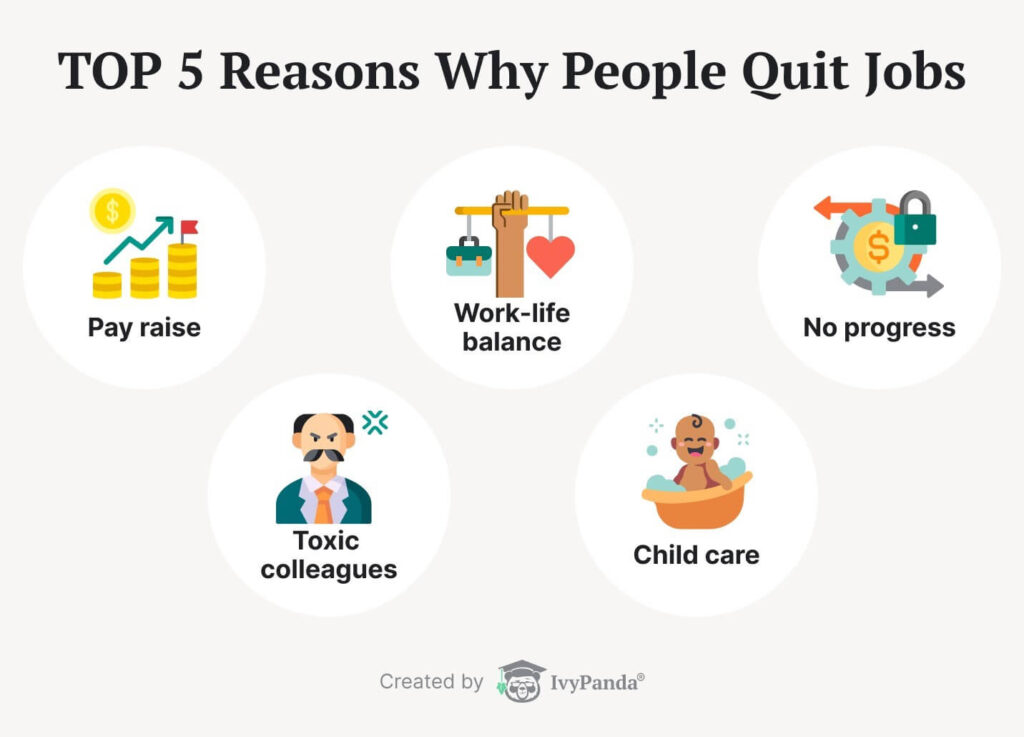 ? Benefits of Making a Career Change 
So, what are the possible benefits of a career change? 

| | |
| --- | --- |
| ?‍✈️ You can learn new skills | A career change is a unique opportunity to develop additional practical and soft skills. Although soft skills like teamwork and creativity are more in demand than ever, not all workplaces help their employees develop them. Finding a new job with room for personal growth will broaden your professional and individual opportunities. |
| ? You can improve your mental health | The State of the Global Workplace: 2022 report revealed that 50% of workers in the USA feel stressed at their jobs on a daily basis. Working in such conditions leads to emotional burnout, anxiety, and depression. A career change can help you protect your mental health and avoid becoming a part of such unfortunate statistics. |
| ? You can make more of an impact | People often change careers because they don't feel like their contributions matter. Finding an employer or industry where you feel like you're making a difference can increase your job satisfaction and boost your self-confidence. |
| ?‍? You can gain flexibility | Changing a career will also teach you how to adapt to new people, challenges, and environments. Flexibility is a powerful skill that can help you both professionally and personally. Moreover, you can find a job with a flexible timetable to improve your work-life balance. |
| ?️ You can learn new things about yourself | Your decision to change your workplace can become the beginning of a self-improvement journey. Some people live without knowing their beliefs, goals, and desires, which prevents them from being happy. Trying various careers over a lifetime can help you identify your strengths and weaknesses and become the best version of yourself. |
How to Get Started – 6 Steps to Switching Careers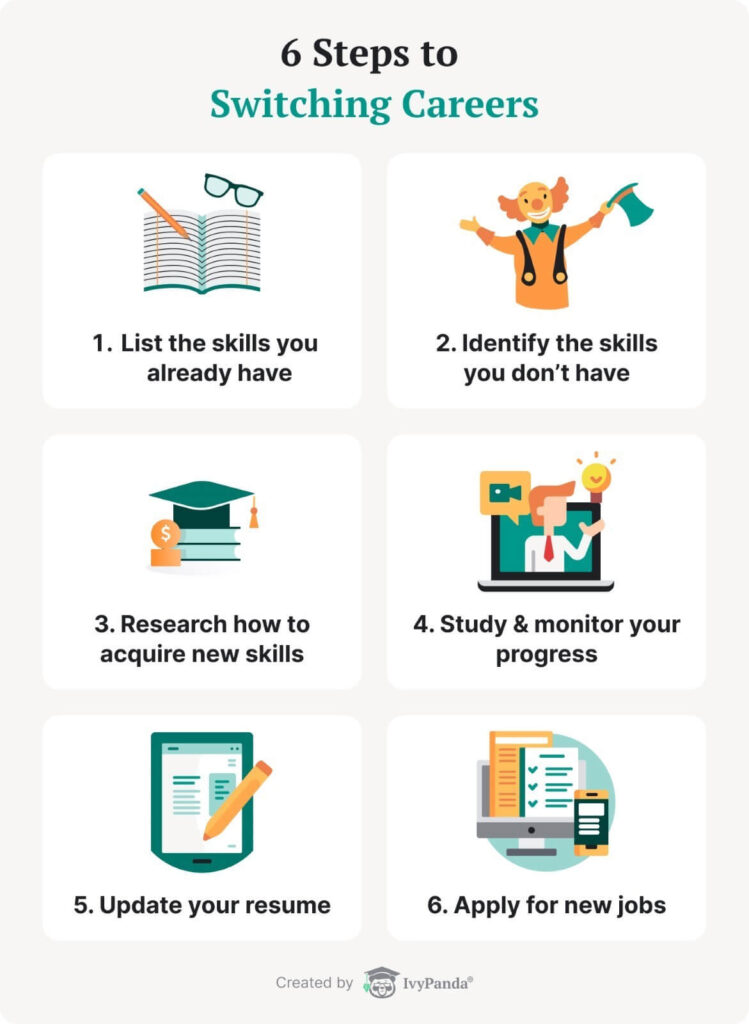 1. Identify the Skills You Have
Come up with a list of your skills and talents, and don't forget about your professional achievements. Unlike young people looking for their first job, you're not starting from scratch. Think about the skills that help you handle your duties successfully, and identify those as your strengths. Your interpersonal skills, time-management, and problem-solving abilities – everything counts! 

2. Identify the Skills You Don't Have
Next, look at the job positions you're interested in and the skills they require. You don't have to fit all the characteristics; focus on the most important ones. For example, can you imagine an IT engineer without basic coding knowledge? We doubt that. Even if you lack specific skills, don't let that demotivate you because there are many ways to obtain them. 

3. Research Where & How to Obtain New Skills
Learning the necessary skills to help you thrive at a new job isn't as challenging as it seems. Today, there are plenty of opportunities for you to learn both hard and soft skills. You can take private classes, get a new degree, or study independently on an educational platform. You can learn other skills by finding a mentor who will guide you or volunteering for the industry you're interested in.



4. Study & Track Your Progress
If you want to acquire a new skill and increase your chances of getting a dream job, it's essential to track your progress. Come up with an action plan and break it down into small steps to achieve your goal. Don't expect too much from yourself; learning a skill takes time and effort, even if you're an experienced worker. 

5. Update Your CV
After having mastered new skills, remember to update your CV. Research shows that recruiters spend about six to eight seconds reviewing a CV before deciding if the candidate is suitable. To increase your chances, you should remove outdated information and include newly acquired relevant soft and hard skills.
Check out How to Write a CV in 11 Useful Tips & Infographic. 

6. Apply
When you are all set, it's time to apply for those dream job positions. In addition to LinkedIn, there are other powerful job search methods. For example, you can contact a company directly. Even if an organization is not actively recruiting, they may keep your CV on file if a position becomes available. Also, you can ask your network for referrals. Even if you don't know anyone from the professional sphere you like, you can check Facebook groups or participate in a networking event. 

? Challenges of Changing Careers & How to Overcome Them
There are some obstacles you may face when changing careers. Let us consider the most common ones and see how you can overcome them. 
Accepting a lower salary. 
Starting a new career often requires you to begin with a lower-level job. While it might be challenging for an experienced worker, there are some ways you can navigate this period. Before leaving your current job, set aside some savings and plan your budget. Consider the starting salary for entry-level positions in the field where you plan to work and identify an acceptable pay cut. 
Learning new skills. 
While switching careers, you might find yourself lacking skills. While this can feel like starting from scratch, remember that there are skills from your previous position that may be transferrable. You will retain all your soft skills, and most of the hard ones can be mastered in time.
Establishing new professional relationships. 
Having built a network in your current profession, you might feel nervous about doing it all over again. Ask people in your new field to introduce you to their acquaintances to overcome this challenge. For example, if you're hoping to move from banking to web design, find a peer with some experience in the desired field and ask them to help you connect with others. 
Struggling with a job search. 
After years in a stable career, you might find searching for a job tiring and demotivational. However, effective preparation can save you a lot of time! Get acquainted with today's hiring practices in advance, including industry expectations, resume trends, and common interview questions.
Not having enough guidance. 
A common challenge is entering a new field without any peers or leaders you trust. No matter how confident you are, sometimes you might find yourself craving more support. There's no shame in asking for help or starting a full mentorship when you need more advice or training. Another solution is observing more experienced industry professionals and imitating their behavior in the workplace. 
Deciding what job you want. 
Often people recognize that they're unhappy about their current career but aren't sure what job will satisfy them. To find your career path, you can start by listing the characteristics of your ideal job. Consider your priorities – for example, a flexible work schedule, reasonable compensation, or training opportunities. Attending job fairs will also help you clarify your career perspectives.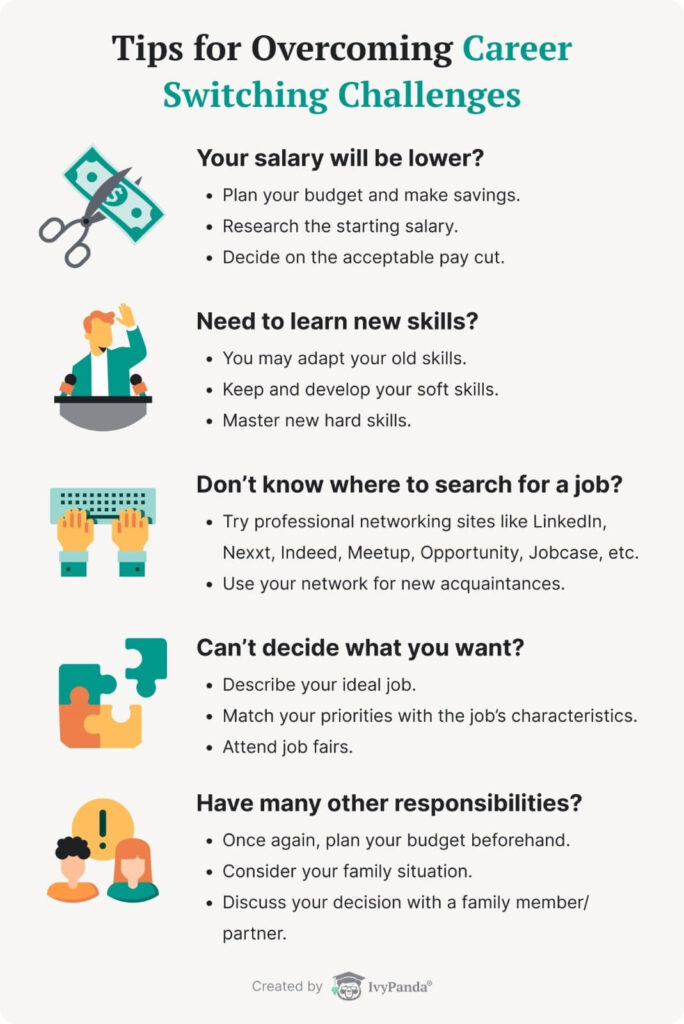 Challenges in Mid-Life
More challenges arise when you're in your 40s and decide to change your career. The most common difficulties are: 
Having more expenses. 
Overall, the cost of living increases yearly. It is much higher than it was 15 or 20 years ago. While looking for a new job and experiencing a pay cut, you'll still need to cover healthcare, rent or a mortgage, and other bills. However, you can handle everything successfully if you plan your budget wisely. 
Having more responsibilities. 
There is a high chance that you might have kids, own a house, or take care of your elderly parents. These responsibilities might influence your decision to pursue more education and switch your career. 
Depending on your family or partner. 
Before making any big decisions, you may need to consult a family member or partner. It is possible that the people closest to you won't support your career change. To avoid any confrontations, you should articulate your motives and show your loved ones all the benefits of switching careers. 

? 10 Biggest Career Change Myths & Truths
A career change might feel scary because it is surrounded by various myths people have created. It's time to put aside your anxieties and verify if these career myths are true. 
| | |
| --- | --- |
| ❌ MYTH | ✅ TRUTH |
| You need to start from scratch. | Many of the hard and soft skills you've acquired at your current position are transferable and can help you deal with the challenges associated with a career change. |
| Only a drastic career change will make you happy. | You don't have to start something totally new to feel satisfied with your job. Consider the advantages and disadvantages of your current position and decide if there's something else you can do within your current industry. |
| You're too old for a career change. | People change careers at all ages; there's no such thing as "too late." Everyone's career path is different, but it's always better to search for a new opportunity instead of wasting your time on a job you don't like. |
| You'll need to get a new degree. | Switching careers does not always require a 4-year degree program. Although it might be a good choice for some people, you can always take a professional course instead. |
| Changing your career means that you've failed at your current position. | In reality, young people often choose their first careers, not knowing what kind of person they want to be. Deciding to switch jobs to one that best suits your goals is a step towards greater personal and professional success. |
| Your next job position will be your forever career. | You don't have to stick to one career for the rest of your life. Having experienced a career change, you expand your network and enrich your CV, which gives you a significant advantage in the career market. |
| Your hobby can't be your next career. | Nowadays, there are plenty of ways to monetize your hobby and make it your next career. You can sell handmade goods on Etsy, start hosting workshops or become a social media influencer. |
| You need to save a lot of money to afford a career change. | A secret to switching careers is that you can work and do a job search simultaneously. If you use the right job search tool and plan your budget and time wisely, anything is possible. |
| You'll need to change your whole routine. | Actually, a career change allows you to choose a job that will help you maintain a pleasant work-life balance. When doing a job search, you can consider positions with a flexible schedule that will fit into your routine. |
| A career search takes a lot of time. | A career search shouldn't take long if you have a carefully crafted CV and some knowledge of the industry you're interested in. Remember to use all the available networking opportunities and apply for jobs directly on companies' websites to make the process more efficient. |
✏️ Tips for Changing Jobs in Your 30s, 40s, 50s, and Later 
There's something else you should know before a significant career change. Have a look at these tips from career experts. 
Before a career change, identify what things you don't like about your current position. How can you avoid them in your new place?
Take all the opportunities to learn about the industry you're interested in, such as professional workshops, career fairs, and open talks.
Bring your experience and knowledge with you when starting a new career. Think of how the skills you already have can benefit you in the future.
Approach your career change step-by-step. Create an action plan and write down everything you need to do with realistic deadlines.
Make new connections, and don't hesitate to contact people from the industry. Many of them are happy to share their experience!


In conclusion, the key takeaway from this article is that it's possible to change your career and life for the better at any age. It's never too late to set new professional and personal goals, though it might require extra effort. Consider your past knowledge and experience a great advantage, and remember our tips for a successful mid-life job change. 
? References