Dual-purpose filter for home that transforms into a portable micro-brewer to go everywhere with you! Check out their Indiegogo campaign here!, where you'll see that they're doing even more to raise awareness and support the ongoing humanitarian crisis in Ukraine by giving back to those in need. 
 
New York, NY, October 2022 – Every cup of coffee or tea that we consume can have a great impact on our environment. These hot beverages require filters, pods, sachets, cups, and stirrers that are very wasteful as they are thrown away after only one use. It is estimated that 50 billion cups are discarded in the U.S.A every year. Shockingly, this is equal to over 95,000 cups every single minute! Imagine, what the rate must be when you scale this globally! These paper cups look innocent, yet in order to make them waterproof and be able to hold beverages, they are lined with polyethylene plastic. Considering only 1% of these cups is recycled, the remaining billions of cups are left in landfills and will take decades to decompose. Also, thanks to the increasing popularity of single-use pod-based coffee brewers both at home and in the office, the pods used also add to the staggering amount of waste caused by our love for hot beverages. All these single-use products contribute to climate change because they're made from nonrenewable resources like crude oil and natural gas. Coffee & Tea to Go Go™ is here to the rescue and is currently being funded via Indiegogo. Support the campaign here.
Coffee & Tea to Go Go™ is a perfectly engineered Dual Purpose Filter: an eco-friendly, reusable, sustainable filter that can be used in the home and office, yet also transforms into the lightest and smallest portable coffee & tea micro-brewing product in the world. At less than 7 oz, it's factually the smallest and lightest Micro-Brewing Kit on the market today. Coffee & Tea to Go Go™ is an innovative brewing kit that is simple and easy to use for great-tasting coffee and tea. It is a single product that holds everything you need to brew a delicious cup of coffee or tea. The kit includes a collapsible silicone cup, a filter with 2 tops, siphon/pump, a spoon, and a filter brush combo. Coffee & Tea to Go Go™ most certainly will eliminate waste: pods, filters, and cups.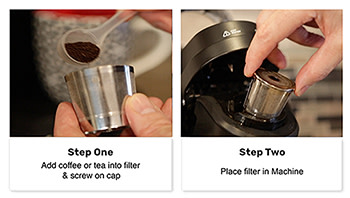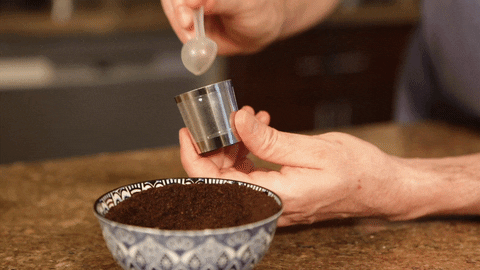 Its dual-purpose filter is extremely versatile, as it has 2 tops. The Indoor top for home and office fits all machines that hold Keurig K-cups (74% of market share). Then, the Outdoor top is for everywhere else—a hike, camping, the beach, or the office—saving time and money. The collapsible silicone cup doubles as a vehicle for brewing and a carrying case that holds the set. The Siphon/Pump used with the Outdoor top lets you control the brew strength by pumping 3 to 7 times. And, in less than 30 seconds (some may steep for longer), you'll have your desired flavor. It's also an incredibly small and light micro-brewing set to toss in your bag or clip with ease to bring on adventures. It is ideal for travel, on-the-go, and outdoor use thanks to its portability and ease of use with no compromise on quality or taste. Another benefit of Coffee & Tea to Go Go™ is that you can also choose to use your own premium coffee and tea, and save money and time waiting in line at your local coffee shop.
Coffee & Tea to Go Go™ was created with a great passion for not only coffee and tea but also for innovation, the environment, and spreading kindness. Through their new Indiegogo campaign, they want to raise awareness of the unfolding humanitarian crisis in Ukraine and give back to those in need. They will be donating 10% of the proceeds from every Coffee & Tea subscription purchased at $15 (8oz) or $20 (1lb) to the largest Ukrainian charity United24.  Since caffeinated coffee is a vital drink for soldiers out on the battlefield, in addition, for every 10 Coffee & Tea to Go Go™ purchased or $50 raised on Indiegogo, 1 Coffee & Tea to Go Go™ cup will be sent out to a Ukrainian soldier.
Although the connection between coffee and those fighting for freedom might not seem immediately obvious, the high demand for coffee amongst Ukrainian troops is well-documented, with 10's thousands of cups being served up daily to soldiers.  In fact, in a recent article in men's magazine GQ, over 2,000 kg of coffee is being consumed in military bases, medical units, and shelters across the nation. reported that soldiers say that if they have a free hour to relax in, they like to make coffee, as they feel it gives them a sense of normality. Coffee & Tea to Go Go™ would like to think that it is doing its bit to take their mind off the harsh situation their country is facing.
Stuart White, CEO, and founder, who invented Coffee and Tea to Go Go, said,
"After discovering, just how essential coffee is to the military worldwide (I simply googled war and coffee and was amazed at all the articles that I discovered), I decided to make this Indiegogo campaign more impactful and meaningful.  Soldiers need to take some solace and comfort whenever they get a moment just to alleviate and relieve the pains of war. We are our world., and if backers of this campaign could collectively come together to help to make even a small difference in this senseless war, we can all do something altruistic, and philanthropic and feel great about it!  It's really simply synergy: you get and give back at the same time. Stand – and in this case Sip – With Ukraine for their struggle for sovereignty, freedom, and liberty that they all deserve."
The company has partnered with several coffee & tea companies to include as Bundled Perks – artisanal and curated coffee & tea subscriptions with over 15 varieties to choose from. This is your chance to be the first to try this amazing micro-brewer and subscriptions offered at discounted prices and spread kindness at the same time.

Please check out their Indiegogo campaign page for more information:
https://igg.me/at/DQ-hc-Lr30I/x/23323982#/